Daley's Update
It's been such a long time time since I updated with any news this is mainly because we have been just writing and writing and writing. It has taken a bit of adjusting to the outside world again! Outside is weird!!!
In between writing we have been checking out the new Hot Chip album. I was never really a fan of the Chipsters until I watched them side of stage in Japan, they were amazing. You know when something just clicks or the plates just suddenly align. I had one of them with Hot Chip. Anyway the album is great. My favorite Tracks are Ready for the Floor, Shake a Fist and Hold On. You should also check out Yeasayer. They are a new favorite of mine. Definitely worth a listen. We recently spent four days in a studio in wales working on two songs, which will potentially make the album. I am really chuffed with the end results. One of the tracks has a choirs worth of backing vocals which is something we've never really experimented with before. It sounds cool as fuck though. I feel a big budget for extra musicians on the next tour coming on. Here are some photo's from the studio session you can enjoy:
PHOTOS FROM THE STUDIO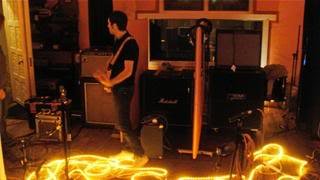 Cheers Daley x
Tour Blog / Fall In Line Demo Version
Matt edited together some footage from TSU's recent tour and put their new demo for 'Fall In Line' over the top. Check it out below…
Album News
With a number of songs completed already The Sunshine Underground are once again heading off into the hills with just their instruments in tow to work on some fresh ideas. Anyone at the Sankey's show recently would have witnessed 7/8 of the new songs likely to appear on the new album and judging by the reaction to those tracks, it should be a stormer.

Keep checking back for more updates and keep your eye on the forum for updates from Daley or Craig.
The Sunshine Underground vs South Central
The 12″ vinyl featuring the South Central remixes of both Borders and Put You In Your Place is being released on Monday 2nd April. The vinyl is limited edition and you can purchase it from the following links:

HMV
Pure Groove
Raise The Alarm Album
The Sunshine Underground's debut album 'Raise The Alarm' is available on CD, LP and download. The tracklisting is below:

1. Wake Up
2. Put You In Your Place
3. Dead Scene
4. The Way It Is
5. Commercial Breakdown
6. Somebody's Always Getting In The Way
7. Borders
8. Panic Attack
9. I Ain't Losing Any Sleep
10. My Army
11. Raise The Alarm